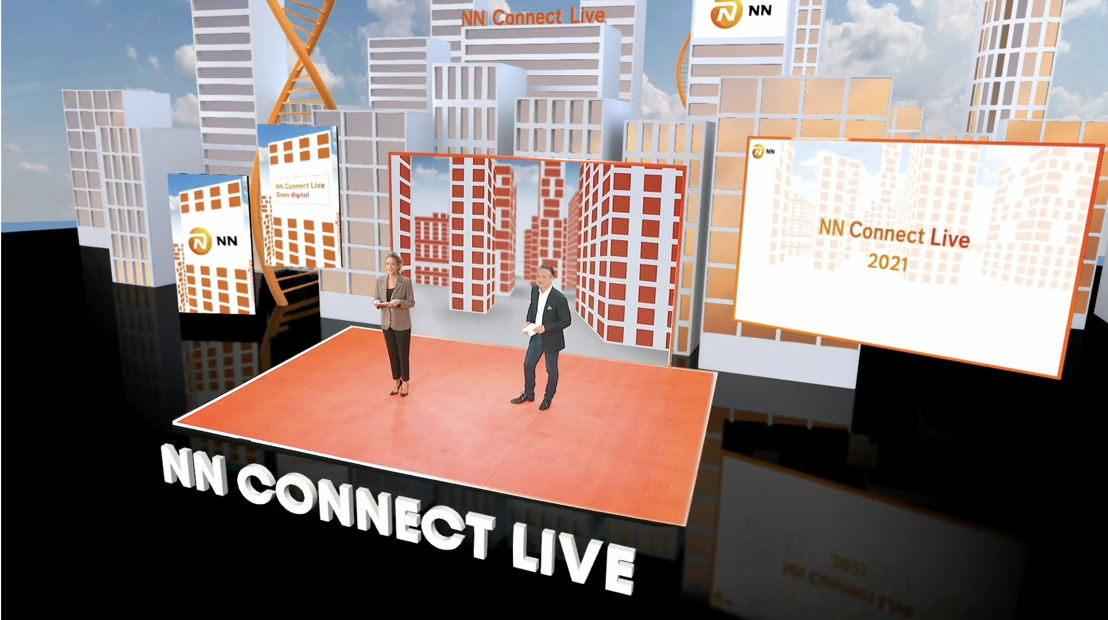 Painting with Light and NEP Belgium present Virtual Event Expo V2 with live Studio streaming
Life insurer NN Insurance Belgium and MediaMixer kick off with digital interactive event NN Connect Live
Genk, Belgium, 25 February 2021 – Painting with Light, Belgian-based specialist in visual design and light technology, and NEP Belgium, specialist in festival and sports broadcasting, proudly present Virtual Event Expo V2, the renewed platform for online events. This second-generation platform offers a unique experience for hybrid events where live interaction is combined with a virtual setting. Using the latest web technology, event managers now have real-time control over the entire happening. The synergy with the Virtual Event Studio results in a dynamic, hybrid and fully interactive event for exhibitors and event organizers!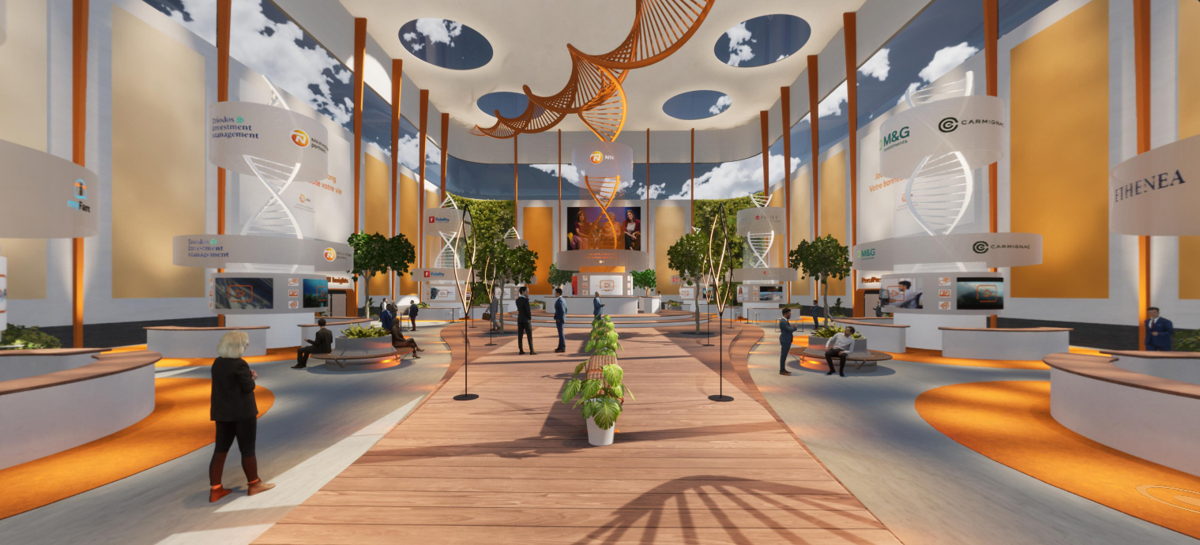 In the new version of the Expoplatform registration procedures and login are refined. This way they cacompanies can import their own guest lists as well as provide a quick and safe login procedure based on email addresses. A nice and well-organized profile badge with customizable fields contributes to more effective networking. The visitors are welcomed in a completely personalized virtual 3D-lobby with adjusted branding, banners, videos and announcements. Chats, networks and uploading new presentations and brochures are part of the many interactions between participants and exhibitors. Live shows and break-out sessions can be integrated for on-demand streaming or there can be a live participation. This is perfectly possible through the integration of the Virtual Event Studio of NEP and Painting with Light.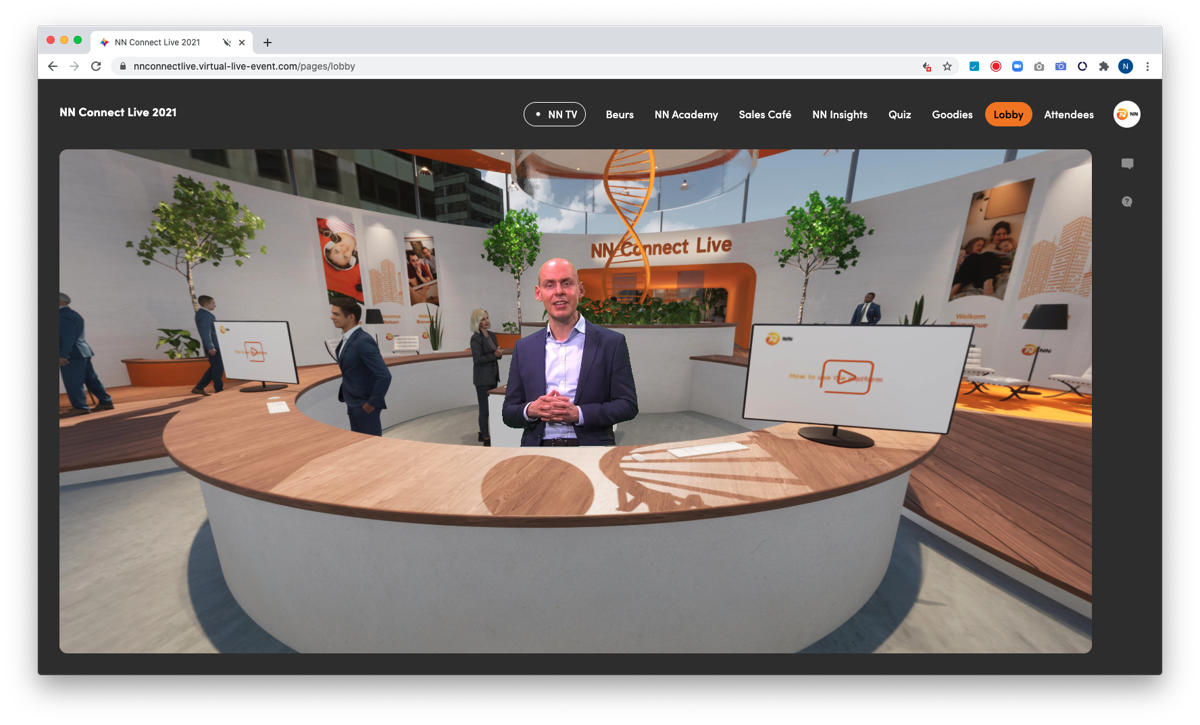 First interactive virtual NN Connect Live event
Life insurer NN Insurance Belgium kicked off the improved platform with NN Connect Live. All functions of the new Virtual Event Expo V2 version were optimally utilized, including two live pages controlled from the Virtual Event Studio with an interactive Q&A and poll widget. The complete virtual setting with lobby, exhibition hall and sales café was designed in 3D by the Painting with Light team. Guests were welcomed in the lobby with a personalized video and had access to 28 stands. Visitors were able to connect with the sales manager by video calls and direct chat. There was also an e-learning platform with 32 videos, including advanced visitor-level analytics for credit accreditation, and access to 26 videos through the Vimeo channel.
Dorien Leyers, Event Director at MediaMixer & Grace K. previously organized several live events for Life insurer NN Insurance Belgium and sees many advantages for the virtual format of NN Connect Live: "With this virtual format we almost reached double the number of participants than previous years and all sessions will also remain available online for a certain period of time. Naturally there is a bit more work in the preparation and planning because a lot of sessions are pre-recorded, but this also contributes to a better quality and more diversification. Our clients and all participants highly valued the dynamic mix of live chats on 3D-stands, participating in live interactive sessions from the studio and the pre-recorded videos. We all look back with satisfaction on a very successful event, thanks to the professional and creative approach of our partners NEP and Painting With Light."
MediaMixer, storytelling agency, provided the total production of NN Connect Live.
Watch the after movie to have a look behind and in front of the scenes of NN Connect Live: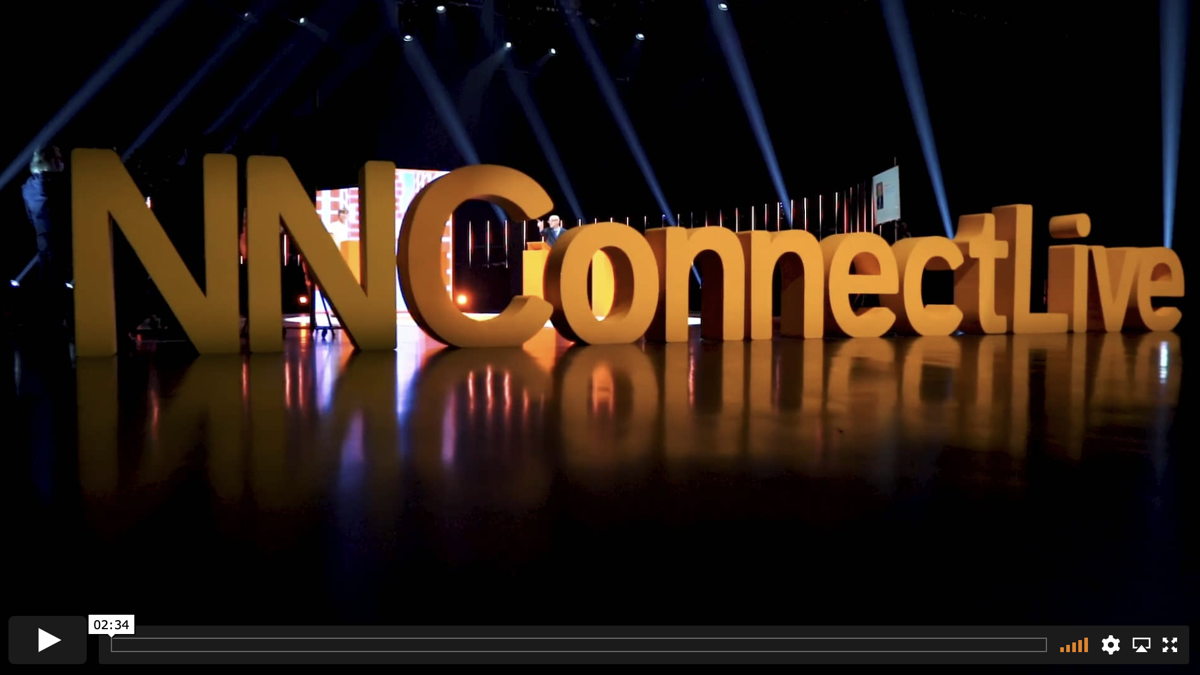 Together with NEP Belgium, Painting with Light offers a Virtual Event Studio in C-Mine Genk and in the NEP Studios at Londerzeel, equipped with the most advanced technologies for interactive events. Luc Peumans, CEO of Painting with Light explains: "Live-streams and videos are integrated in every stand with own branding and links. Break-out rooms are also available for dedicated sessions, with recording and live video chats between participants and exhibitors. All of this makes the experience a lot more interactive and personal."
Simon Coene, Sales & Project Manager of NEP Belgium: "Virtual visitors that take part in the interactive platform are being displayed digitally in the hall as thumbnails and projected on a large screen for interaction. This way, the presenter has a view on the entire audience and can thus better respond to reactions like at a physical event!"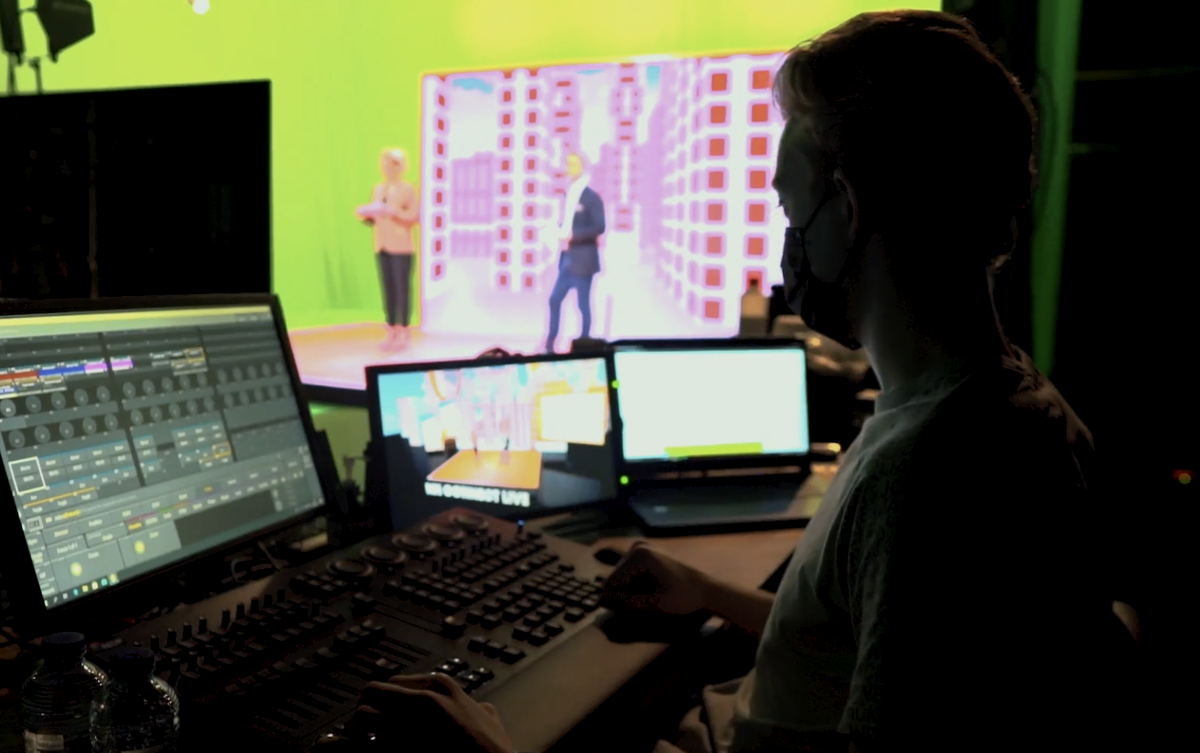 About Virtual Event Studio
Main feature of the Virtual Event Studio is a high-resolution LED-wall and -floor, which together with a chromakey wall, forms the mixed reality decors with fully adjustable light installation and ample choice of production facilities. This puts the presenter in an impressive and customizable virtual background for a greater visual coherence. The Studio is equipped with a top-notch channel camera system, advanced audio mixers and speakers with microphones, sanitized after each use. Custom soundscapes, music tracks and effects can also be produced for events as part of the package. The control room is housed in a separate area with an impressive array of image processors and media servers. All technical experts in the control room have years of experience at festivals, musicals, concerts and other live entertainment events. They monitor every movement of the show and can make adjustments on the fly so there is no interruption or loss of quality.
Many virtual events have already been successfully organized the past few months in this innovative and coronaproof studio, including VOKA Open Bedrijvendag and RE-START of Agoria, as well as events by IMEC Belgium, Axxes, Proximus, Ericsson, Materialise, SBS, Unizo, Life insurer NN Insurance Belgium, Orange, Graco, Johnson & Johnson,...