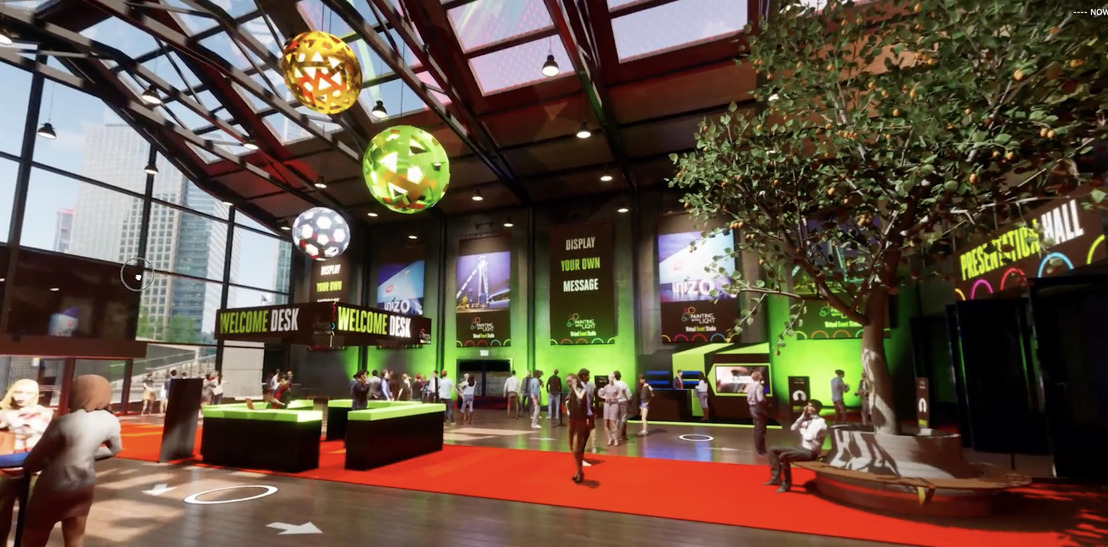 Painting with Light launches new Virtual Event Expo interactive and intuitive 3D-platform
Dynamic & coronaproof events from Studio in Genk and Londerzeel
Genk, Belgium, 16 November 2020 –  Painting with Light, Belgian-based specialist in visual design and light technology, proudly presents its new Virtual Event Expo platform. This innovative and user-friendly platform offers a complete digital infrastructure for trade shows and events. Combined with the Virtual Event Studio in Genk and Londerzeel, the Expo is ideally suited for corporate meetings, brand activation, round tables, product launches, conferences, seminars and even concerts. And all this in a completely virus and coronafree environment!  
The Virtual Event Expo includes a true virtual lobby in 3D as impressive access to the exhibition halls and unlimited number of stands. These can be fully customized and branded to each event and participating company. Combining the Virtual Event Expo with the Studio provides the perfect dynamic and interactive event experience!

Luc Peumans, CEO of Painting with Light comments: "We already hosted many events in our Virtual Event Studio and the Expo platform is an important extra dimension and extension for online visitors. As opposed to more static virtual events, we can render someone at a desk or booth to welcome and inform visitors. Live-streams and videos can be integrated with dedicated branding and links for further information. Moreover, we offer break-out rooms for meetings or dedicated sessions, with recording and video chat options so exhibitors can smoothly connect with their visitors. The result is a much more interactive and dynamic event, and in the end it all comes down to personal contacts and building relationships."
Cynthia Coulier of VOKA Open Bedrijvendag explains: "It was a dramatic change to go fully digital but we managed to organize a successful 30th 'Open Bedrijvendag' (Open House) thanks to the great cooperation and technology by Painting with Light. All presentations were recorded in advance in the Studio and then broadcasted at the online Expo platform during the event. This way we could offer many visitors a look behind the scenes of the participating companies. And moreover, all sessions and stands remain accessible after the event itself." Click and visit the 2020 VOKA Open Bedrijvendag here: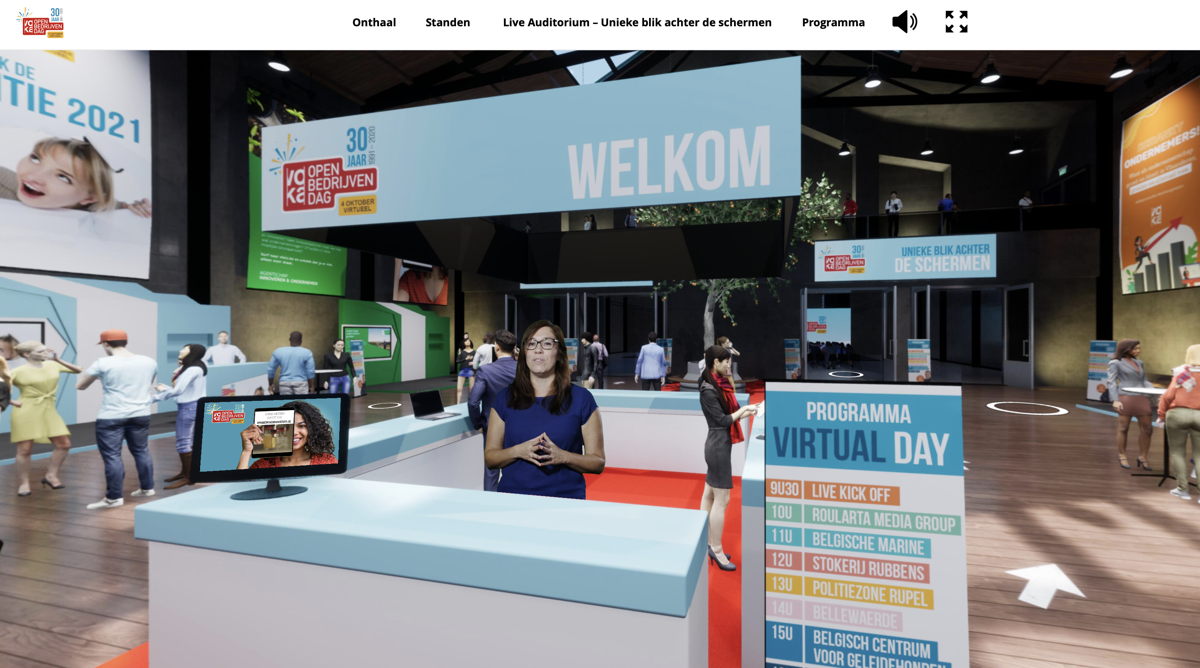 Virtual Event Studio offers live interaction and presentations
Together with partner NEP Belgium, specialist in festival and sport broadcasting, Painting with Light exploits a fully-fledged, interactive Virtual Event Studio in C-Mine Genk and in Londerzeel. Combined with the Virtual Event Expo companies and organizations can host a perfectly integrated virtual event to engage and inspire their guests.  
Attendees can join via an assortment of different video conferencing platforms and virtually participate on-scene! They are gathered in front of the stage as live video thumbnails and shown on a large projection screen in the studio. This way the presenter can feel their presence and see the complete audience, just like at a physical event! The online audience can be streamed individually on to the virtual backscreen so the presenter can answer questions and engage in conversations.
Many virtual events have been hosted successfully and coronaproof during the past months in the innovative Studio: recently VOKA Open Bedrijvendag and RE-START by Agoria, as well as events by IMEC Belgium and Axxes, Proximus, SBS, Ericsson, Materialise, Unizo,...
Presenters and moderators are praising the interactive feature, allowing live engagement of the audience during presentations or debates. Presenter Xavier Taveirne presented and moderated the VOKA Open Bedrijvendag, using both the Studio and Expo: "The Coronavirus made us realize we can achieve a lot remotely. The Virtual Event Studio offers a relaxed environment to perform on stage and still reach many people.  Jolyce Demely, Business Advisor at Agoria Vlaanderen, is very pleased about the cooperation: "Our RE-START event went very smoothly thanks to the top professional support of the Painting with Light team. We have been able to present the show very comfortably and yet enjoy a direct interaction with the attendees. The Studio is a true showpiece for our technology industry!"
Click on the image link to see the full spectrum here:
About Virtual Event Studio
Main feature of the Virtual Event Studio is a high-resolution LED-wall and -floor, which together with a chromakey wall, forms the mixed reality decors with fully adjustable light installation and ample choice of production facilities. This puts the presenter in an impressive and customizable virtual background for a greater visual coherence. The Studio is equipped with a top-notch channel camera system, advanced audio mixers and speakers with microphones, sanitized after each use. Custom soundscapes, music tracks and effects can also be produced for events as part of the package. The control room is housed in a separate area with an impressive array of image processors and media servers.  All technical experts in the control room have years of experience at festivals, musicals, concerts and other live entertainment events. They monitor every movement of the show and can make adjustments on the fly so there is no interruption or loss of quality.