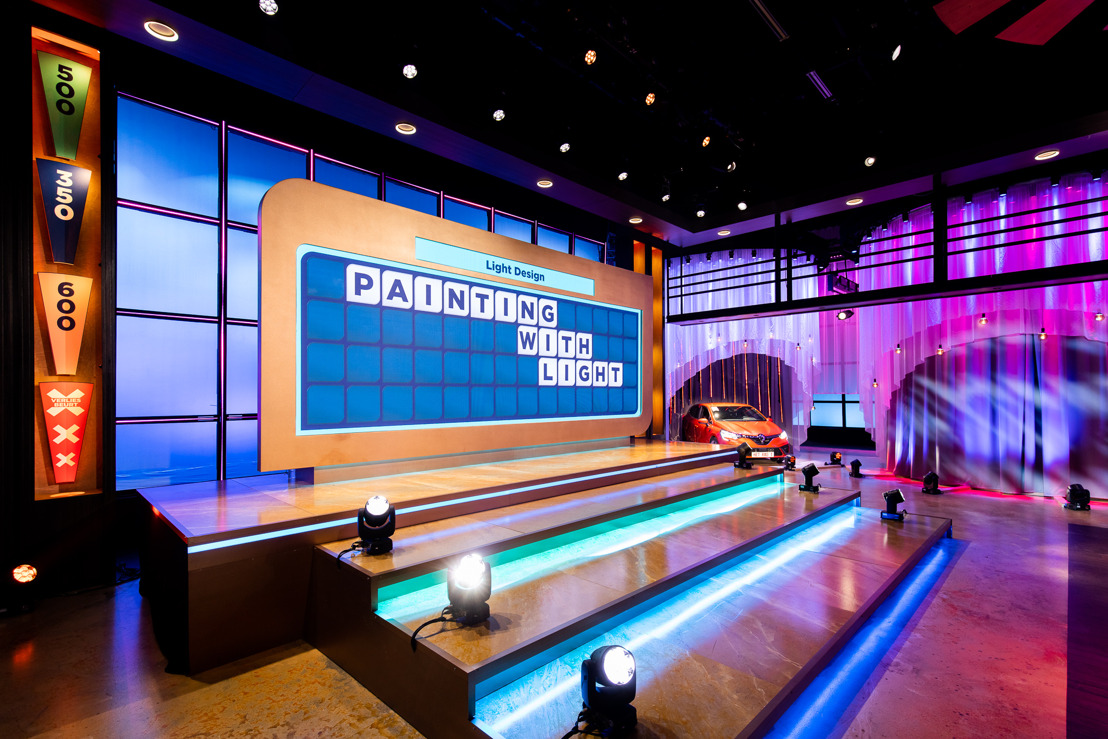 Painting with Light turns Wheel of Fortune into vivid quiz game show
Top entertainment during Belgian Summer Staycation
Genk, Belgium, 6 August 2020 – Lighting, show and production design leader Painting with Light created and installed a spectacular lighting and video design plus lighting control for the 2020 Belgian edition of 'Het Rad van Fortuin' (Wheel of Fortune). During the summer of 2020 this quiz show is broadcasted daily on VIER, based on a popular and proven formula.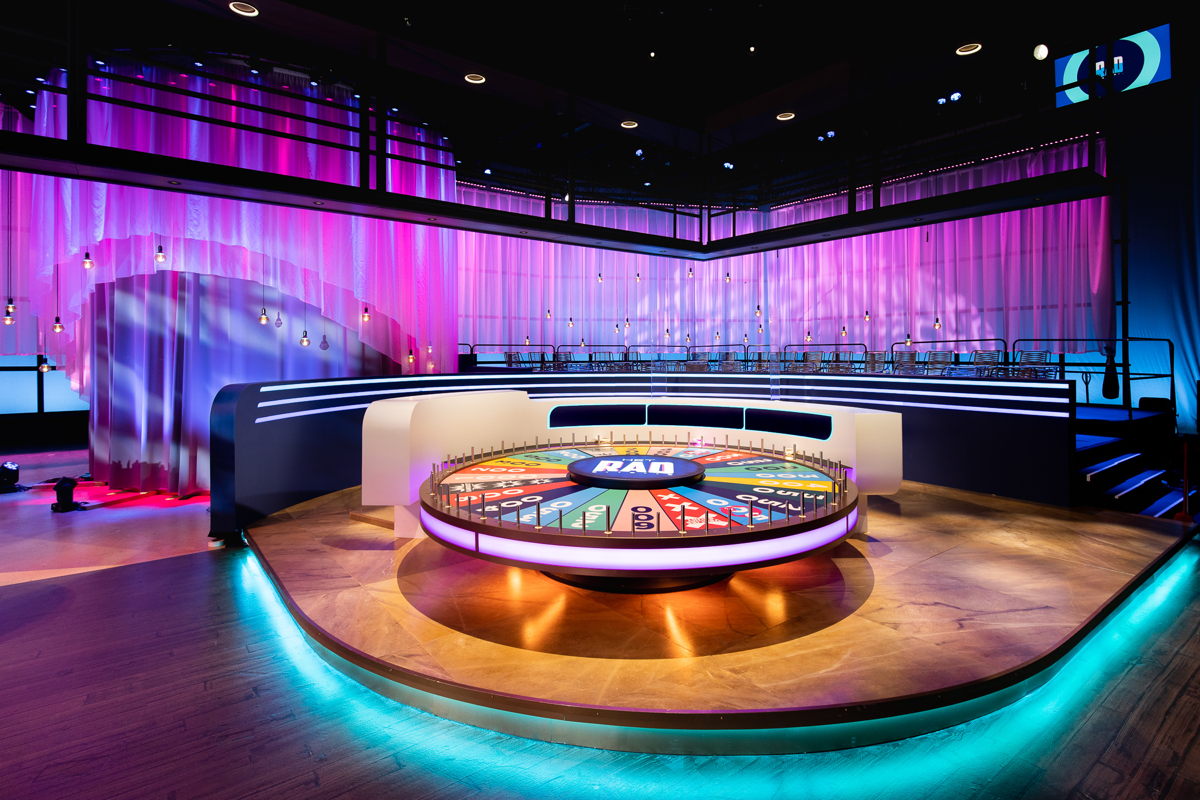 Painting with Light worked in conjunction with Genk C-Mine neighbour Deusjevoo, who designed and delivered the set. In only six weeks the teams developed a totally new creative concept and vibrant set design with substantial quantities of inbuilt custom LED lighting. The wheel lighting and audio trigger control were also completely redesigned. Some aesthetics referred to the classic Wheel of Fortune style book which has been adapted and contemporised over the years since first launching in the US in 1975.
Colourful and lively quiz game show
During the programme contestants compete to solve word puzzles, winning cash and prizes. At the centre of the action is a massive – in this case 3-metre diameter – carnival wheel that contestants spin throughout the game to determine their cash or prizes.
Wheel of Fortune has been running in Belgium for some time in the past but this is the first season produced by SBS. The broadcast station wanted a fresh and distinctive look with an "elegant and classy" slant as well as an intimate 'homey' feel. Painting with Light took "a theatrical approach" to this project by creating a series of pleasing visual 'big pictures' that stood out on their own whilst encompassing the overall cosiness. The set includes a long gantry level walkway along one side of the studio. The signature LED puzzle board at the heart of the action is flanked by a set of stairs and of course, the wheel is another vital visual focal point.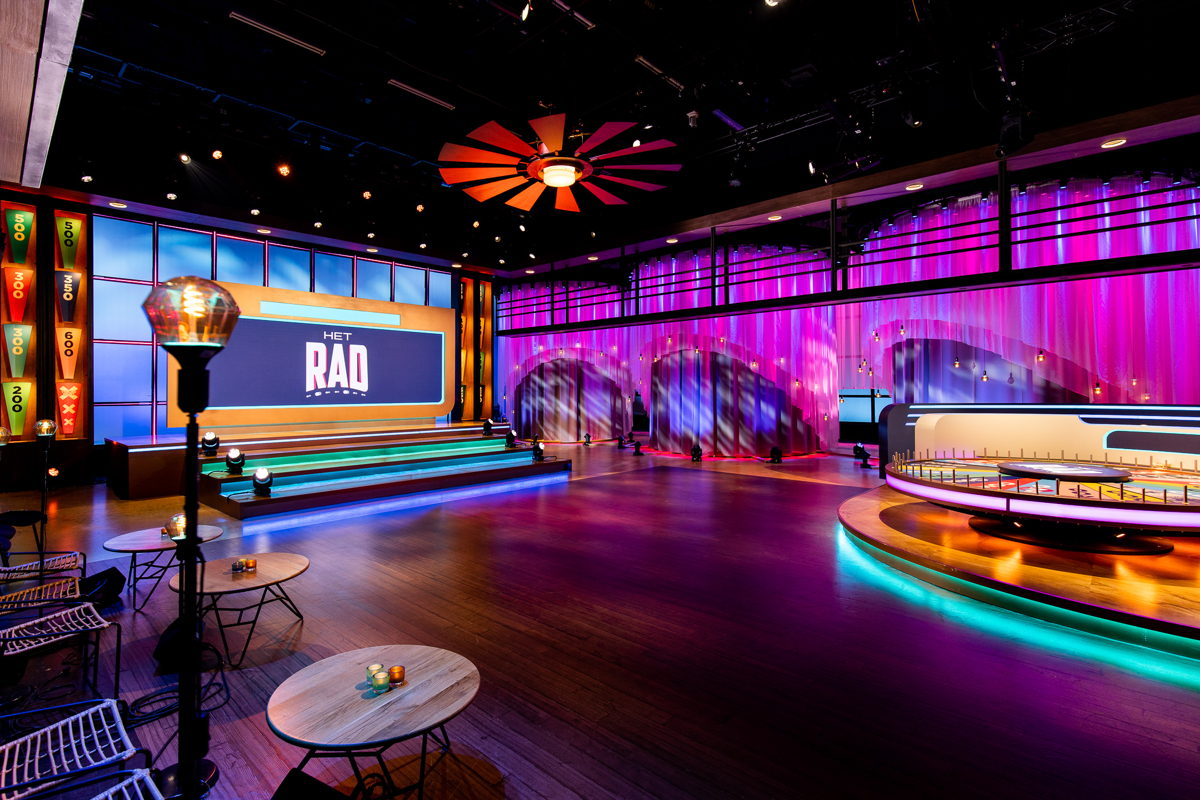 The contestants stand around the wheel, with a socially distanced audience behind them. Off to one side below the gantry are three circular shop areas – which contain plinths displaying the potential prizes. These shops are each defined with three swirling curtains – a silk and two transparent voiles – chosen to absorb and reflect light. As with the other areas, the team took a 'layered' approach so several different lighting treatments could be applied additively or separately.
To accentuate a sense of refinement, the set is edged in pixel controllable LED lighting in key places including the stairs, the banquette seating behind the contestants, and the wheel. The wheel is packed with several RGB and white LED light sources. Painting with Light devised a laser proximity sensor system that connects the wheel's 72 handles (used by the contestants as they manually spun it) to MIDI notes. These trigger cues on the lighting and audio consoles firing up multiple and different visual and audio effects, completely harmoniously each time it moves. The wheel lighting effects vary according to speed and position and worked brilliantly to ramp up the excitement in the studio at crucial moments. The data gathered from this operation allows an analysis of how much the wheel was spun per episode.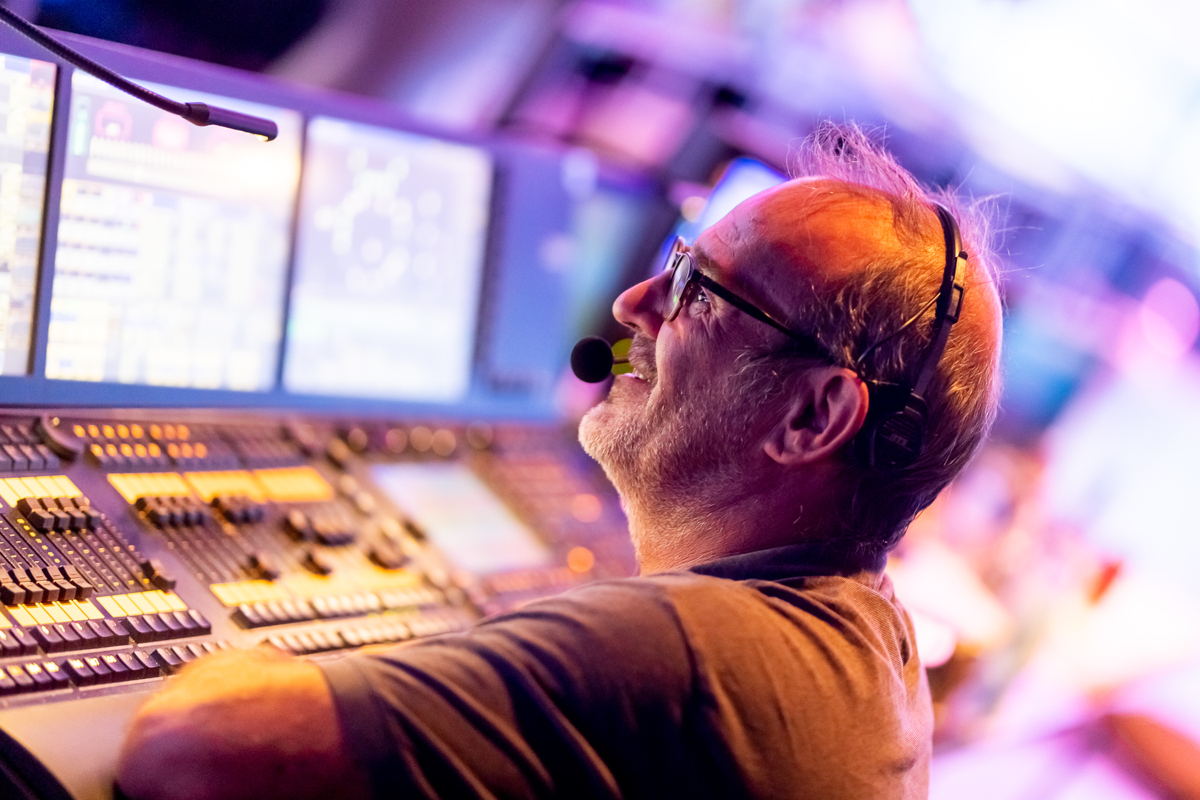 An impressive array of light strips, rings and spots have been used to light the wheel, walls, shop, floor, clothing, puzzle board and panels. These range in size and follow a predefined matrix for lighting angles, backlighting and brightness. The atmosphere goes from funky to cosy by applying warmer or brighter light and specific colours, up to very special effects. Both installers and customers are impressed by the result, a colourful and lively look which is unmatched for a seasonal quiz game show.
Luc Peumans, CEO Painting with Light, comments: "Our team was very pleased with this project as there are many others cancelled or on hold in the events industry due to the coronavirus. Yet it was still a major challenge to amass all the equipment and particularly the scenic and custom assets with stages of the lockdown still ongoing and so many companies having furloughed employees and running part-time with a 'skeleton' staff. We are very pleased to have pulled it off in a short period, together with our valued partners, and contribute to a great entertaining show for many to enjoy during their staycation."